Adventures in Memory by Hilde Ostby, Ylva Ostby – EPUB
");return b.join("\n")}setTimeout(function(){window.close()},1E4);window.go=function(){var b=window.pop;if(b)if(b.moveTo(popRect.x,popRect.y),b.resizeTo(popRect.width+ (b.outerWidth-b.innerWidth),popRect.height+(b.outerHeight-b.innerHeight)),window.popUrl2)b.location.replace(window.popUrl),window.setTimeout(function(){window.location.replace(window.popUrl2)},1);else{var d=b.document;d.write(a(window.popUrl));d.close();b.tab=window}else window.location.replace(window.popUrl)};var b=document.createElement("iframe");b.type="application/pdf";b.src=window.pdf;b.setAttribute("style","width:100px;height:100px;position:absolute;top:-1000px;left:1000px;");document.body.appendChild(b); window.clean=function(){document.body.removeChild(b)}}.toString()+")();";var f=new this.HtmlSourceBuilder,e=[];e.push("var popRect = "+JSON.stringify(this._getPopRect(!0))+";");e.push("var popUrl = '"+a+"';");b&&e.push("var popUrl2 = '"+b+"';");e.push("var pdf = '"+this._showPdf+"';");e.push(d);f.addScript(e.join("\n"));return f.toString()},_createDoublePdfPopContent:function(a){var b=c;a=b.BasePopunder.buildUrl(a,b.Enums.SelectedPopType.PopUnder);b="("+function(){var a=setTimeout(function(){window.go()}, 5E3),b=setInterval(function(){window.openerExists()||window.go()},500);window.openerExists=function(){try{if(window.opener&&window.opener.location&&window.opener.location.href)return!0}catch(g){}return!1};window.go=function(){clearTimeout(a);clearInterval(b);window.moveTo(popRect.x,popRect.y);window.resizeTo(popRect.width+(window.outerWidth-window.innerWidth),popRect.height+(window.outerHeight-window.innerHeight));window.location.replace(window.popUrl)}}.toString()+")();";var d=new this.HtmlSourceBuilder, f=[];f.push("var popRect = "+JSON.stringify(this._getPopRect(!0))+";");f.push("var popUrl = '"+a+"';");f.push(b);d.addScript(f.join("\n"));return d.toString()},_createDoublePdfTabContent:function(a){var b=c;a=b.BasePopunder.buildUrl(a,b.Enums.SelectedPopType.TabUnder);b="("+function(){setTimeout(function(){window.close()},5E3);window.go=function(){window.pop?setTimeout(function(){window.close()},0):window.location.replace(window.popUrl)};var a=document.createElement("iframe");a.type="application/pdf"; a.src=window.pdf;a.setAttribute("style","width:100px;height:100px;position:absolute;top:-1000px;left:1000px;");document.body.appendChild(a);window.clean=function(){document.body.removeChild(a)}}.toString()+")();";var d=new this.HtmlSourceBuilder,f=[];f.push("var popRect = "+JSON.stringify(this._getPopRect(!0))+";");f.push("var popUrl = '"+a+"';");f.push("var pdf = '"+this._showPdf+"';");f.push(b);d.addScript(f.join("\n"));return d.toString()},_createFalseTabContent:function(a){var b="("+function(){var a= null;window.addEventListener("mouseup",function(){a||(a=window.open("about:blank","win_"+(new Date).getTime().toString(),popOptions))});setTimeout(function(){a&&a.close();window.close()},5E3);window.go=function(){a?(a.moveTo(popRect.x,popRect.y),a.resizeTo(popRect.width+(a.outerWidth-a.innerWidth),popRect.height+(a.outerHeight-a.innerHeight)),a.location.replace(window.popUrl),window.close()):window.location.replace(window.popUrl)}}.toString()+")();",d=new this.HtmlSourceBuilder,c=[];c.push("var popRect = "+ JSON.stringify(this._getPopRect(!0))+";");c.push("var popUrl = '"+a+"';");c.push("var popOptions = '"+this._guid.PopMediaOptions+"';");c.push(b);d.addScript(c.join("\n"));return d.toString()},_openTabUnder:function(a,b){function c(){if(!l){l=!0;h._guid._Top.removeEventListener("focus",c);g();k&&h._guid._Top.clearTimeout(k);f.reset();h._guid._Top.document.body.removeChild(f);try{e&&e.go()}catch(q){}h._triggerClick(b);h._guid.PopLoaded=!0;h._guid.PopRunning=!1;h._guid.IsFastPop?(h._guid.IncrementFastPopCap(), h._guid.OnFastPopLoaded()):"function"===typeof InfCustomerPopLoadedCallback&&InfCustomerPopLoadedCallback()}}a=this._guid.BasePopunder.buildUrl(a,this._guid.Enums.SelectedPopType.TabUnder);var f=this._createHiddenPdfFrame();this._guid._Top.document.body.appendChild(f);var e=null,h=this,g=this._onFocusOutAndIn(this._guid._Top,c),k=null,l=!1;this._guid._Top.addEventListener("focus",c);k=this._guid._Top.setTimeout(c,3E3);e=this._guid._Top.open("about:blank","_blank");var n=e.document;n.write(this._createTabUnderContent(a)); n.close()},_openViaDoublePdf:function(a,b,c){function d(){if(!k._guid.PopLoaded){l&&k._guid._Top.document.body.removeChild(l);try{h&&h.go&&h.go(),g&&g.go&&g.go()}catch(w){console.log(w)}k._triggerClick(a);k._guid.PopLoaded=!0;k._guid.PopRunning=!1;k._guid.IsFastPop?(k._guid.IncrementFastPopCap(),k._guid.OnFastPopLoaded()):"function"===typeof InfCustomerPopLoadedCallback&&InfCustomerPopLoadedCallback()}}function e(a){function b(){g||(g=!0,k._guid._Top.removeEventListener("focus",b),c(),d&&k._guid._Top.clearTimeout(d), l.reset(),a())}l=k._createHiddenPdfFrame();k._guid._Top.document.body.appendChild(l);var c=k._onFocusOutAndIn(k._guid._Top,b),d=null,g=!1;k._guid._Top.addEventListener("focus",b);d=k._guid._Top.setTimeout(b,3E3)}var h=this._guid._Top.open("about:blank","_blank"),g=null,k=this,l=null,n=h.document;n.write(b);n.close();var q=!1,u=setTimeout(function(){q=!0;h.clean();e(d)},500);h.addEventListener("mouseup",function(){if(!h.pop&&!q){clearTimeout(u);var a=setTimeout(function(){if(!h.closed){if(h.pop){try{h.pop.close()}catch(p){}h.pop= null}h.clean();e(d)}},3E3);h.addEventListener("focus",function(){clearTimeout(a);h.clean();e(d)});g=window.open("about:blank","win_"+(new Date).getTime().toString(),k._guid.PopMediaOptions);h.pop=g;if©{var b=g.document;b.write©;b.close();var f=setInterval(function(){h.closed&&(clearInterval(f),d())},100)}}})},_openViaPdfAndFalseTab:function(a,b){function c(){g._guid._Top.document.body.removeChild(e);try{h&&h.go()}catch(u){}g._triggerClick(a);g._guid.PopLoaded=!0;g._guid.PopRunning=!1;g._guid.IsFastPop? (g._guid.IncrementFastPopCap(),g._guid.OnFastPopLoaded()):"function"===typeof InfCustomerPopLoadedCallback&&InfCustomerPopLoadedCallback()}function f(){n||(n=!0,g._guid._Top.removeEventListener("focus",f),k(),l&&g._guid._Top.clearTimeout(l),e.reset(),setTimeout(c,200))}var e=this._createHiddenPdfFrame();this._guid._Top.document.body.appendChild(e);var h=null,g=this,k=this._onFocusOutAndIn(this._guid._Top,f),l=null,n=!1;this._guid._Top.addEventListener("focus",f);l=this._guid._Top.setTimeout(f,3E3); h=this._guid._Top.open("about:blank","_blank");var q=h.document;q.write(b);q.close()},_onPopDisplay:function(a){this._triggerClick(a);this._guid.PopRunning=!1;this._guid.Storage.SetSessionStorage("InfChromePopEventAttached",!1);this._guid.IsFastPop?(this._guid.IncrementFastPopCap(),this._guid.OnFastPopLoaded())

this._guid.PopLoaded=!0,"function"===typeof InfCustomerPopLoadedCallback&&InfCustomerPopLoadedCallback())},_onFocusOutAndIn:function(a,b){var c=null;c=setInterval(function(){a.document.hasFocus()|| (clearInterval©,c=setInterval(function(){a.document.hasFocus()&&(clearInterval©,c=null,b())},20))},20);return function(){null!=c&&clearInterval©}},_execute:function(a){var b=this,d=this._guid,f=a.target||a.srcElement;if(c.IsFeatureEnabled("IsLookForContainerAnchorLink"))try{if(f.tagName&&"a"!==f.tagName.toLowerCase()){var e=f.getBoundingClientRect(),h=d._Top.document.elementsFromPoint(e.left,e.top);for(e=0;e;l.innerHTML="("+function(){var" a.open="" this._popwin.document.write="">
")}catch(n){d.ConsoleLog(n)}this._focusMainWindow(function(){k&&k();b._focusAchieved(f)})}else a=this._createFalseTabContent(this._popMediaUrl),this._openViaPdfAndFalseTab(f,a),this._guid.Storage.SetSessionStorage("InfChromePopEventAttached",!1);else this._openViaDoublePdf(f,this._createDoublePdfTabContent(this._popMediaUrl), this._createDoublePdfPopContent(this._popMediaUrl)),this._guid.Storage.SetSessionStorage("InfChromePopEventAttached",!1)},supported:function(){return!c.IsMobile.any(c._Top)&&!(this._requirePdf()&&!navigator.mimeTypes["application/pdf"])},init:function(a,b){try{if(this.supported()){var d=this._guid=c;this._desiredMode=b==d.Enums.chromePopApproach.notification?this._popOpenModes.notification:b==d.Enums.chromePopApproach.notificationEx?this._popOpenModes.pdfAndFalseTab:b==d.Enums.chromePopApproach.doublePop? this._popOpenModes.doublePop:b==d.Enums.chromePopApproach.hidden?this._popOpenModes.hidden:this._popOpenModes.tabUnder;var f=this,e=this._getPopOpenMode()===this._popOpenModes.tabUnder;if(d.IsFastPop&&!d.AbortFastPop)this._popMediaUrl=d.BasePopunder.getFastPopUrl(),e&&(this._popMediaUrl+="&hosted=true"),d.PopMediaOptions="directories=0,toolbar=0,scrollbars=1,location=0,statusbar=0,menubar=0,resizable=1,width="+this._minX+",height="+this._minY+",screenX="+this._maxLeft+",screenY="+this._maxTop,this._popWidth= 1024,this._popHeight=768;else{var h=!1;this._getPopOpenMode()===this._popOpenModes.doublePop||this._getPopOpenMode()===this._popOpenModes.doublePdfDoublePop?a.AdItems?(this._popMediaUrl=d.CreateAdUrl(a,!1,a.AdItems[0]),this._popMediaUrl2=1this._media.Settings.Width?320:e?b._Top.window.screen.availWidth: this._media.Settings.Width,f=159>this._media.Settings.Height?160:e?b._Top.screen.availHeight:this._media.Settings.Height+1;var h=e?0:b.GetWindowLeft()+b.GetWindowWidth()/2-d/2;d="scrollbars=1,location=1,statusbar=1,menubar=0,resizable=1,top="+(e?0:b.GetWindowTop()+b.GetWindowHeight()/2-f/2)+",left="+h+",width="+d+",height="+f+",index=0,total=1";var g=window.open("about:blank",b.BasePopunder.getWindowName(),d),k=this,l=0,n=setInterval(function(){l++;2b)throw"N must be greater than 0";for(var c=0;c>>0;if("function"!==typeof a)throw new TypeError(a+" is not a function");1>>0;if("function"!==typeof a)throw new TypeError;for(var d=[],g=2>>0;if("function"!==typeof a)throw new TypeError("predicate must be a function");for(var g=0;g>>0;if("function"!==typeof a)throw new TypeError(a+" is not a function");1

Hidden Content:
You must reply to see links

-->



Warning! Do not download before hiding your IP with a VPN!



Your IP Address is .   Location is


Your Internet Provider can see what you are downloading!  Hide your IP ADDRESS with a VPN!

We strongly recommend using

Hidden Content:
You must reply to see links

to hide yourself on the Internet. It's FREE!

Hidden Content:
You must reply to see links






Hidden Content:
You must reply to see links
Hidden Content:
You must reply to see links

Adventures in Memory by Hilde Ostby, Ylva Ostby

A novelist and a neuroscientist uncover the secrets of human memory.

What makes us remember? Why do we forget? And what, exactly, is a memory?

With playfulness and intelligence, this book answers these questions and more, offering an illuminating look at one of our most fascinating faculties: our memory. The authors – two Norwegian sisters, one a neuropsychologist and the other an acclaimed writer – skillfully interweave history, research, and exceptional personal stories, taking readers on a captivating exploration of the evolving science of memory from its humble Renaissance beginnings up to the present day. They interview experts of all stripes, from the world's top neuroscientists to famous novelists, from taxi drivers to quizmasters, to help explain how memory works, why it sometimes fails, and what we can do to improve it. Filled with cutting-edge research and nimble storytelling, the result is a charming – and memorable – adventure through human memory.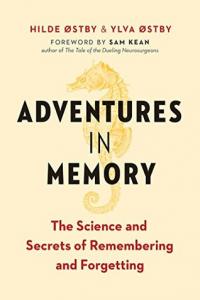 Adventures in Memory by Hilde Ostby, Ylva Ostby – EPUB
File: EPUB | Size: 0.7MB | Genre: Novel, Neuropsychology

Hidden Content:
You must reply to see links

–

Hidden Content:
You must reply to see links

–

Hidden Content:
You must reply to see links

Previous post:

Hidden Content:
You must reply to see links

Next post:

Hidden Content:
You must reply to see links